Preventively enteral application of immunoglobulin enriched colostrums milk can modulate postoperative inflammatory response
European Journal of Medical Research
2013
18:50
Received: 17 January 2013
Accepted: 11 November 2013
Published: 23 November 2013
Abstract
Several studies demonstrated acute inflammatory response following traumatic injury. Inflammatory response during surgical interventions was verified by a significant increase of endotoxin plasma levels and a decrease of the endotoxin neutralizing capacity (ENC). However, the incidence of elevated endotoxin levels was significantly higher (89%) than detected bacterial translocation (35%). Thus parts or products of Gram-negative bacteria seem to translocate more easily into the blood circulation than whole bacteria. Along with the bacterial translocation, the inflammatory response correlated directly with the severity of the surgical intervention. In comparison after major and minor surgery Interleukin-6 (IL-6) and C-reactive protein (CRP) was also significantly different. Similar effects in mediator release were shown during endovascular stent graft placement and open surgery in infrarenal aortic aneurysm. Open surgery demonstrated a significant stronger endotoxin translocation and a decrease of ENC. Strategies to prevent translocation seem to be sensible. Colostrum is the first milk produced by the mammary glands within the first days after birth. It contains a complex system of immune factors and has a long history of use in traditional medicine. Placebo-controlled studies verified that prophylactic oral application of immunoglobulin-enriched colostrum milk preparation diminishes perioperative endotoxemia, prevents reduction of ENC and reduces postoperative CRP-levels, suggesting a stabilization of the gut barrier. This effect may be caused by immunoglobulin transportation by the neonatal receptor FcRn of the mucosal epithelium.
In conclusion, there is an association of perioperative endotoxemia and the subsequent increase in mediators of the acute phase reaction in surgical patients. A prophylactic oral application of colostrum milk is likely to stabilize the gut barrier i.e. reduces the influx of lipopolysaccharides arising from Gram-negative bacterial pathogens and inhibits enterogenic endotoxemia. This appears to be a major mechanism underlying the therapeutic effect in patients at risk for Gram-negative septic shock.
Keywords
Inflammatory response
Endotoxin translocation
Acute phase response
Review
Multiple studies have demonstrated endotoxin as the most crucial pathogenic factor of Gram-negative bacteria and its role in Gram-negative sepsis [
1
–
20
]. Endotoxemia was shown to occur often following traumatic injury and shock, and in a variety of chronic diseases. Notably, surgical interventions are also known to be associated with an increased release of inflammatory mediators, depressed immune function and increased susceptibility to subsequent infection (Figure
1
). Various studies have shown a correlation between the extent of the surgical intervention and the inflammatory response [
4
,
21
–
24
]. Herein, the postoperative acute-phase reaction is induced by the translocation of bacterial products in the gut causing an inflammatory response with a stress reaction and secretion of catecholamines [
18
,
25
]. Likely, endotoxin translocation plays a major role in triggering infectious complications in trauma and surgical patients [
26
,
27
]. Preventive protection of the mucosal barrier functions by selective decontamination with antibiotics and nutritional strategies have proven to be beneficial [
4
,
22
,
28
–
32
]. Furthermore, the enteral applications of an immunoglobulin-enriched colostrum preparation stabilize the gut barrier and diminish the peri- and postoperative endotoxin translocation and consecutively, the acute phase response (Figure
1
) [
22
,
33
] (Table
1
).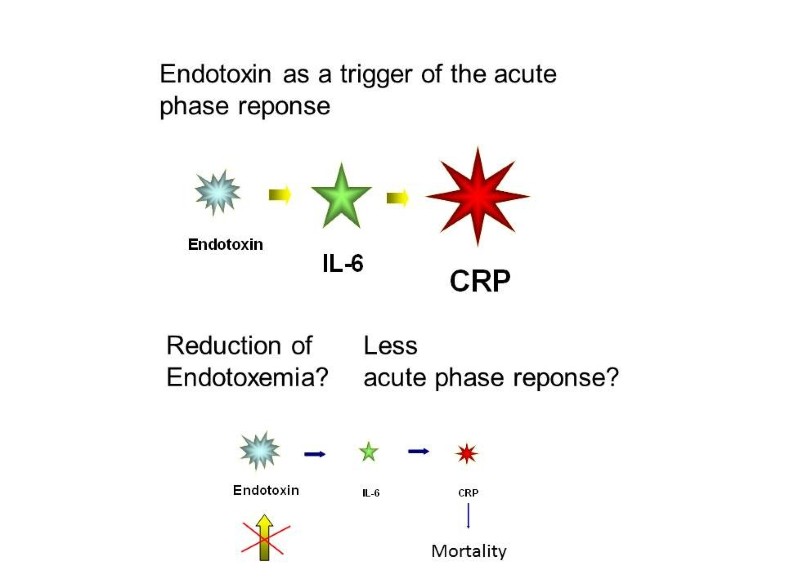 Table 1
Summary of the crucial literature
| | | |
| --- | --- | --- |
| [4] | Boelke E et al.; Wien Klin Wochenschr 2002 | Immunoglobulin-enriched colostrum milk preparation reduces endotoxin translocation and acute phase response in cardiac patients. |
| [7] | Hsiao HB; Shock 2011 | Kinsenoside suppresses LPS-stimulated inflammatory reactions |
| [22] | Bolke E; Angiology 2001 | Changes of gut barrier function during cardiac surgery |
| [34] | Struff WG; Int J Clin Pharmacol Ther 2007 | Inhibition of intestinal LPS absorption measured after bovine colostrum milk application diminises IL-6 and CRP |
| [35] | Deitch EA; Front Biosci 2006 | The gut-lymph hypothesis, reduction of endotoxin binding protein in surgery patients |
| [36] | Brandtzaeg P; Springer: New York, NY, USA 2007 | IgA agglutination of microbes, adherence and invasion of mucosal epithelial cells |
| [37] | Fernandez MI; Immunity 2003 | Internalization of IgA into intestinal epithelial cells |
| [38] | Olah A; Hepatogastroenterology 2007 | Enteral nutrition reduces sepsis in patients with pancreatitis |
| [39] | Friedrich I; Eur J Med Res 2002 | IgM-enriched immunoglobulin preparation for immunoprophylaxis in cardiac surgery |
| [40] | Fujitani K; Br J Surg. 2012 | Prospective randomized trial of preoperative enteral immunonutrition followed by elective total gastrectomy for gastric cancer |
Colostrum has a long history of medicinal use. It is the first milk produced by the mammary glands within the first days after birth. Bovine colostrum is homologous to human colostrum, although the protein content is about twenty-, and the amount of immunoglobulin (Ig)G about ten-times higher than that of the human equivalence [
41
,
42
]. Bovine colostrum is accepted for human use and can easily be produced in large quantities [
41
]. It contains large amounts of immunological factors to support growth and immune maturation of the digestive tract and provides passive immunity until the newborn has synthesized its own active immune defense system [
41
,
43
–
48
]. Beside nutrients such as carbohydrates, amino acids, fat, vitamins, and minerals colostrum contains Ig, including IgG, IgM and IgA, which may provide a defense in both the treatment and prevention of viral and bacterial infections [
34
,
49
,
50
]. Bovine IgG from colostrum or milk can be effective as a means of providing passive immunity to protect animals and humans from diseases. The immunoglobulins found in milk and the transfers of passive immunity from mother to neonate (Figure
2
) have been reviewed by a number of authors, with a partial listing of references [
50
–
68
].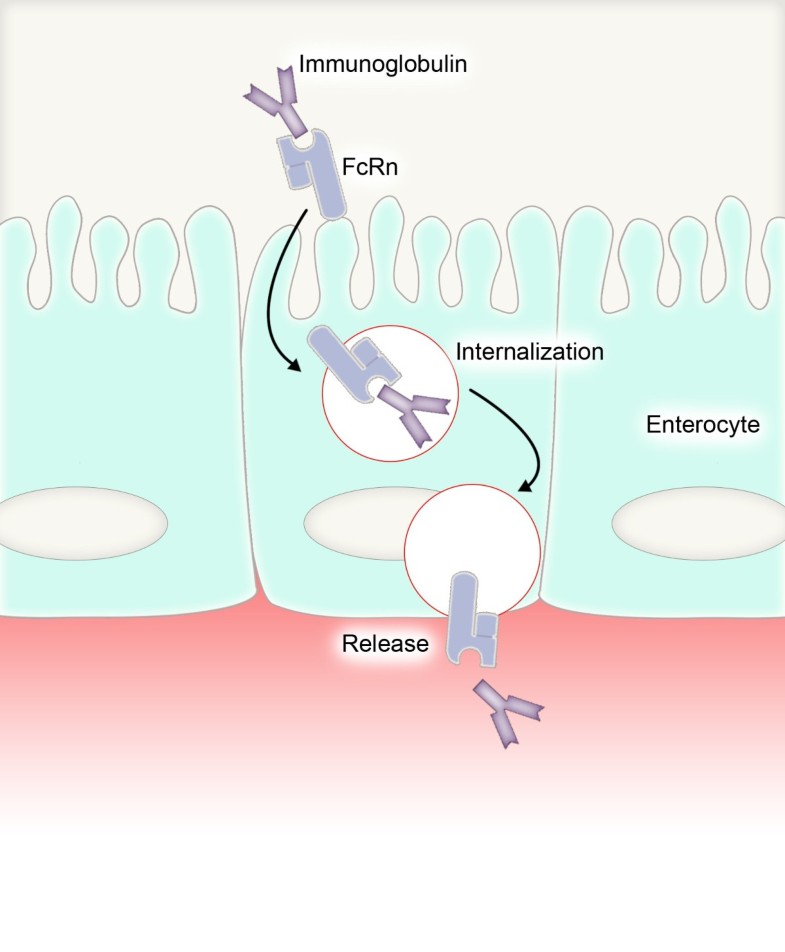 The inflammatory response with its adverse aspects still remains an only partially understood, unresolved problem after large surgical interventions. However, the use of monoclonal and polyclonal antibodies in therapy in humans has made them the fastest-growing protein pharmaceutical agent. Our objective was to re-evaluate postoperative endotoxemia, its impact on postoperative inflammatory response and the interaction of colostrum milk immunoglobulin on the postoperative course as a possible treatment.
Conclusion
Enteral nutrition is not just the acquisition of calories and nitrogen, but it also offers the possibility of the acute-phase response modulation and immune-function improvement. Benmark [108] noted 75% immune-function localization in the gastrointestinal tract. This offers nutritional science a window to modulate this system. A bacterial translocation could not always be proven in patients after major trauma. Moore et al. did find significant bacteremia or endotoxemia in their study of 20 patients [76]. However, several investigations demonstrated the impact of perioperative endotoxemia and subsequent activation of acute-phase mediators, such as IL-6 and CRP, in patients with intestinal, general, vascular and heart surgery. Bacterial translocation and endotoxemia does not only occur in patients after colonic surgery but also in all other surgical interventions. Therefore, the impact is associated with the extent of the surgical intervention and the surgical approach (open surgery versus minimal invasive treatment). Preventive protection of the mucosal barrier function by selective decontamination with antibiotics was proven to be beneficial. However, selection and mutation of bacteria interdict a non-selective application of antibiotics. Therefore, nutritional strategies are favorable as they were proven to be effective and they do not promote selective breeding of resistant bacteria. The main actions include an antibacterial effect and the modulation of the immune response. Polyvalent bovine colostrum concentrates are able to neutralize LPS, that is, endotoxins arising from Gram-negative bacterial pathogen, and can inhibit activation of acute-phase mediators.
The concentration in colostrum of specific antibodies against pathogens is raised by immunizing cows with these pathogens or their antigens. Immune milk products are supplements made of such hyperimmune colostrum or antibodies enriched from this milk. These products can be used to give effective specific protection against different enteric diseases and are commercially available for animal farming. They were also proven to be effective in balancing gastrointestinal microbial flora and in prophylaxis against various infectious diseases in humans. Positive results have been obtained with products targeting Rotavirus, Shigella flexneri, Escherichia coli, Clostridium difficile, Streptococcus mutans, Cryptosporidium parvum and Helicobacter pylori. Clinical studies are currently in progress to evaluate the efficacy of immune milks in the prevention and treatment of various human infections, including those caused by antibiotic-resistant bacteria. Immune milk products are promising examples of health-promoting functional foods.
Abbreviations
AUC:

Area under the curve
CRP:

C-reactive protein
ELISA:

Enzyme-linked immunosorbent assay
EnBP:

Endotoxin-binding protein
ENC:

Endotoxin neutralizing capacity
IL:

Interleukin
Ig:

Immunoglobulin
sIgA:

Secretory immunoglobulin A
TNF:

Tumor necrosis factor.
Authors' Affiliations
(1)
Medical Faculty, Department of General, Visceral, and Thoracal Surgery, Asclepios Harz Hospitals, Goslar, Germany
(2)
Medical Faculty, Department of General, Visceral-, and Pediatric Surgery, Heinrich Heine Universität Düsseldorf, Germany University of Düsseldorf, Dusseldorf, Germany
(3)
Department of Trauma Surgery, Klinikum rechts der Isar, Technische Universität München, Munich, Germany
(4)
Medical Faculty Department of Dermatology, Heinrich Heine Universität Düsseldorf, Germany University of Düsseldorf, Dusseldorf, Germany
(5)
Medical Faculty Department of Radiation Oncology, Heinrich Heine Universität Düsseldorf, Germany University of Düsseldorf, Duesseldorf, Germany
(6)
Klinik für Allgemein-, Viszeral-, Gefäß- und Unfallchirurgie, Krankenhaus St. Joseph. Propsteistr. 2, Essen-Werden, Germany
Copyright
© Orth et al.; licensee BioMed Central Ltd. 2013
This article is published under license to BioMed Central Ltd. This is an open access article distributed under the terms of the Creative Commons Attribution License (http://creativecommons.org/licenses/by/2.0), which permits unrestricted use, distribution, and reproduction in any medium, provided the original work is properly cited.