Traumatic bilateral carotid artery dissection following severe blunt trauma: a case report on the difficulties in diagnosis and therapy of an often overlooked life-threatening injury
European Journal of Medical Research
2015
20:62
Received: 12 June 2015
Accepted: 8 July 2015
Published: 22 July 2015
Abstract
Background
Traumatic carotid artery dissections are very rare, often overlooked and life-threatening injuries. Diagnosis and treatment are difficult especially in multiple injured patients.
Case presentation
We report on a 28-year-old female major trauma patient (injury severity score, ISS 50) who was involved in a motor vehicle accident. She was primarily transferred to a level II trauma center. After initial assessment and operative management, an anisocoria was diagnosed on the intensive care unit. Subsequent CT angiography and extracranial duplex sonography revealed a bilateral internal carotid artery dissection. The patient was transferred to our level I trauma center where conservative treatment with high-dose heparin therapy was started at day two after trauma. Outcome after 6 months was very good.
Conclusion
Besides presenting the case and outcome of this patient, the article discusses the diagnostic and therapeutic management of this extremely rare and often overlooked dangerous injury. To avoid overlooking carotid artery dissections, CT angiography of the neck region should be generously included into the initial multislice CT whole-body scan, when the injury results from an according trauma. For the best outcome, sites of hemorrhage should be abolished quickly and the anticoagulative therapy should be initiated as soon as possible. Interdisciplinary treatment of trauma surgeons and neurologists is crucial.
Keywords
Neck injuriesTraumatic vessel dissectionInternal carotid artery dissectionPolytrauma
Background
Traumatic carotid artery dissections are often overlooked life-threatening injuries [1]. Even though most of the carotid artery dissections occur spontaneously, about 4% of the dissections are related to severe trauma [2]. While spontaneous dissections are usually seen in older patients, traumatic dissections mostly affect young patients [3]. The diagnosis of traumatic dissections is often difficult, because of missing initial symptoms or distracting injuries. The treatment itself also provides many difficulties, especially when combined with other injuries after severe trauma [2]. Therefore, improvements in diagnosis and treatment of traumatic artery dissections are of relevance for emergency medicine.
Case presentation
A 28-year-old woman was involved in a motor vehicle accident (MVA) and suffered major trauma. The trauma mechanism was a high speed MVA with head-on collision on a motorway. When the paramedics arrived, the patient was found lying on the street next to the car involved in the accident, she was soporific with an initial Glasgow Coma Scale (GCS) of 8. Furthermore, she complained about severe pain in her head, chest and right leg. She was intubated, immobilized and transferred by ground emergency to a Level II trauma center nearby.
After initial trauma management following the Advanced Trauma Life Support (ATLS)-scheme, a whole-body CT scan was performed. As direct sequelae of trauma, multiple injuries were found (see Table
1
), but no traumatic brain injury (ISS = 50 points). Following the damage control concept, the II° open tibial fracture was stabilized with an external fixator, followed by surgery of the open mandibular fracture. The patient was transferred to the intensive care unit (ICU) after the operation. The postoperative checkup on the ICU 4 h after hospital admission showed an anisocoria (right > left). Therefore, additional diagnostics were initiated. A CT angiography revealed the suspicion of a bilateral internal carotid artery (ICA) dissection (Figure
1
). The suspected diagnosis was confirmed by subsequent extracranial duplex sonography.
Table 1
Pattern of injuries of the patient presented
| Pattern of injuries resulting in an ISS of 50 points | AIS score |
| --- | --- |
| Bilateral carotid artery dissection with bilateral stroke | 5 |
| Open mandibular fracture | 4 |
| Le Fort I fracture | 2 |
| Undislocated fracture of the left clavicula | 1 |
| Rib fracture of the first rib | 1 |
| Bilateral lung contusion | 2 |
| Pneumothorax | 3 |
| Pelvic ring fracture type A | 2 |
| II° open tibial head fracture | 2 |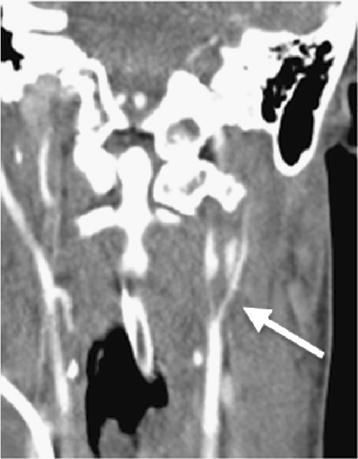 48 h after the accident, the patient was transferred via helicopter non-intubated to the emergency department of our level I trauma center. It was decided not to intubate the patient prior helicopter transport to make continuous neurological assessment possible. The patient presented with a GCS of 8 under sufentanil analgesia, in soporific condition, not focusing with her eyes, spontaneous movements of the right arm, her left leg moved upon stimulation and the left arm and right leg were not moved spontaneously but after stimulation, no speech production, with persisting anisocoria (right > left) in terms of an incomplete horner syndrome. The additional CT angiography showed no changes in the vascular findings but a cerebral infarction in the left central region.
The patient was transferred to the ICU. A transcranial Doppler sonography showed a sufficient collateral circulation of the middle cerebral artery via the posterior communicating arteries, so that an interventional stent angioplasty (with subsequent need of double platelet aggregation inhibition) was not performed. High-dose intravenous heparinization was started immediately (PTT 60–80 s). Magnet Resonance Imaging (MRI) on the next day (3 days after trauma) (Figure
2
) revealed bihemispheric, mainly left-sided, ischemic lesions near the border zone. The high-dose heparinization was continued.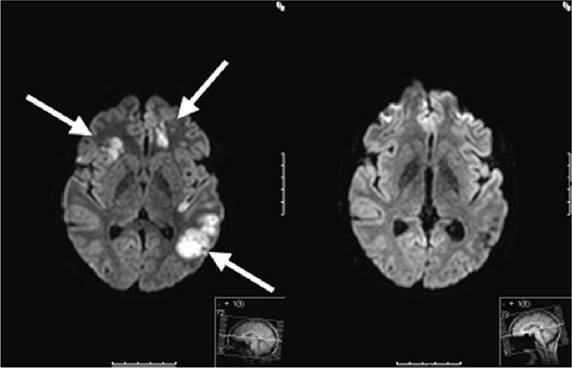 Eight days after the accident and ICU treatment the patient was referred to the stroke unit with a score of 8 on the National Institutes of Health Stroke Scale (NIHSS, min. 0 points = no neurological deficit, max. 42 points = worst outcome). Over the course of time the proximal tibial fracture was treated with osteosynthesis and the intravenous heparinization was converted to oral anticoagulation with Dabigatran (Pradaxa®) 150 mg 1–0–1 (off-label use because of needle-phobia). The clinical situation improved, but regarding focal neurological deficiencies, a global motoric aphasia remained. The patient was discharged to rehabilitation 22 days after the trauma with a NIHSS of four points. Six months later, the patient presented at our clinic for follow-up examinations and showed great recovery. Besides slight concentration difficulties and fine motor dysfunctions, no neurological deficiencies remained (NIHSS = 0). The MRI scan 6 months after trauma showed good recovery with a good perfusion of both internal carotid arteries (Figures
1
,
2
,
3
).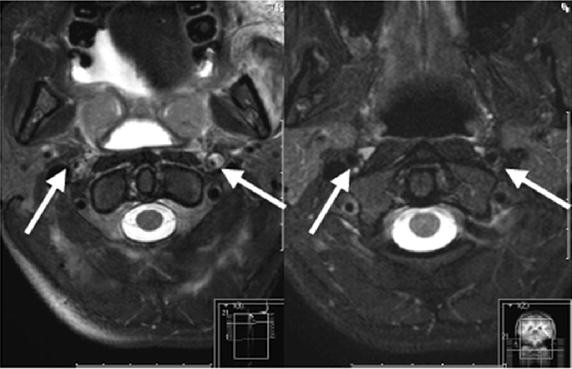 Conclusion
Approximately 4% of the CADs result from trauma, such as MVAs. Bilateral traumatic carotid artery dissections as presented in the case at hand are extremely rare. There are several therapeutical options to treat patients with traumatic dissections of the ICA. But when it comes to a severely injured patient as described in our case, no specific guidelines for diagnosis and treatment exist. To avoid overlooking a carotid artery dissection, we recommend to include a CT angiography of the neck region into the MS-CT whole-body scan generously, when a certain trauma mechanism shows the possible coexistence of an artery dissection. Regarding the therapeutical options, the bleeding risk is one of the most challenging aspects. Therefore, a close cooperation between the different medical disciplines is essential. Following the ATLS principle "treat first what kills first", the patient should be stabilized initially, sites of hemorrhage should be abolished quickly (i.e. fracture stabilization with external fixator, etc.) and the anticoagulative therapy should be initiated as soon as possible.
Consent
Written informed consent was obtained from the patient for publication of this case report and any accompanying images. A copy of the written consent is available for review by the editor of this journal.
Abbreviations
AIS:

Abbreviated Injury Scale
ATLS:

Advanced Trauma Life Support
CAD:

carotid artery dissection
GCS:

Glasgow Coma Scale
ICA:

internal carotid artery
ISS:

Injury Severity Scale
MCA:

middle cerebral artery
MVA:

motor vehicle accident
NIHSS:

National Institute of Health Stroke Scale
Declarations
Authors' contributions
MC participated in the case reports design, conducted the literature search and drafted the manuscript. GS and MB assisted in the literature search and critical revisions of the manuscript for important intellectual content. SW/SHW/PB conceived the case report and provided critical revision of the manuscript for important intellectual content. All authors read and approved the final manuscript.
Acknowledgements
We thank Fritz Seidl, M.A. Interpreting and Translating, for professional language editing.
Compliance with ethical guidelines
Competing interests The authors declare that they have no competing interests.
Open AccessThis article is distributed under the terms of the Creative Commons Attribution 4.0 International License (http://creativecommons.org/licenses/by/4.0/), which permits unrestricted use, distribution, and reproduction in any medium, provided you give appropriate credit to the original author(s) and the source, provide a link to the Creative Commons license, and indicate if changes were made. The Creative Commons Public Domain Dedication waiver (http://creativecommons.org/publicdomain/zero/1.0/) applies to the data made available in this article, unless otherwise stated.
Authors' Affiliations
(1)
Department of Trauma Surgery, Klinikum rechts der Isar, Technical University Munich, Munich, Germany
(2)
Department of Neurology, Klinikum rechts der Isar, Technical University Munich, Munich, Germany