Epidemiology and antifungal resistance in invasive candidiasis
European Journal of Medical Research
2011
16:187
Received: 7 March 2011
Accepted: 20 March 2011
Published: 28 April 2011
Abstract
The epidemiology of Candida infections has changed over the last two decades: The number of patients suffering from such infections has increased dramatically and the Candida species involved have become more numerous as Candida albicans is replaced as an infecting agent by various non-C. albicans species (NAC). At the same time, additional antifungal agents have become available. The different Candida species may vary in their susceptibility for these various antifungals. This draws more attention to in vitro susceptibility testing. Unfortunately, several different test methods exist that may deliver different results. Moreover, clinical breakpoints (CBP) that classify test results into susceptible, intermediate and resistant are controver- sial between CLSI and EUCAST. Therefore, clinicians should be aware that interpretations may vary with the test system being followed by the microbiological laboratory. Thus, knowledge of actual MIC values and pharmacokinetic properties of individual antifungal agents is important in delivering appropriate therapy to patients
Keywords
FluconazoleVoriconazoleCaspofunginCandida IsolateClinical Breakpoint
Introduction
In 2001, McNeil et al. reported that (in the USA) "from 1980 through 1997, the annual number of deaths in which an invasive mycosis was listed on the death certificate (multiple-cause mortality) increased from 1557 to 6534" (Table
1
, Figure
1
) [
1
]. Augmentation of fungal infections had been published earlier i.e. by Beck-Sague and Jarvis [
2
] and Edmond et al. [
3
] for the USA and by Lamagni et al. [
4
] for England and Wales (Figure
2
). There are several possible reasons for this change. An important one might be the increase in lifespan in the populations of the developed world and the age related loss of immune-competence. An increase of systemic fungal infections is probably also due to more intensive treatment schemes for hematological and oncological patients causing prolonged neutropenic phases. Finally, more effective antibacterial treatments allow patients with infections to survive longer without necessarily overcoming the underlying diseases and thus leaving them susceptible to other opportunistic infections. Eggimann et al. [
5
] summarized prior surgery, acute renal failure, previous yeast colonization, neutropenia, antibacterial therapy, parenteral nutrition, and central venous catheters as risk factors for invasive Candidia infections.
Table 1
Ranking of underlying causes of deaths due to infectious diseases in the united states in 1980 and 1997 [1].
1980

1997

Rank

Type of infection

No. of deaths

Type of infection

No. of deaths

1

Respiratory tract

56,966

Respiratory tract

87,181

2

Septicemia

9,438

Septicemia

22,396

3

Kidney/utl

8,006

HIV/AIDS

16,524

4

Heart

2,486

Kidney/UTI

13,413

5

Tuberculosis

2,333

Heart

5,577

6

Bacterial meningitis

1,402

Hepatobiliary

4,596

7

Gastrointestinal

1,377

Mycoses

2,370

8

Hepatobiliary

1,277

Tuberculosis

1,259

9

Perinatal

1,035

Gastrointestinal

1,053

10

Mycoses

828

Perinatal

820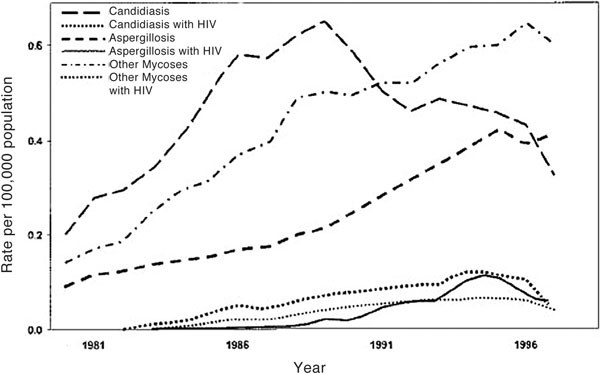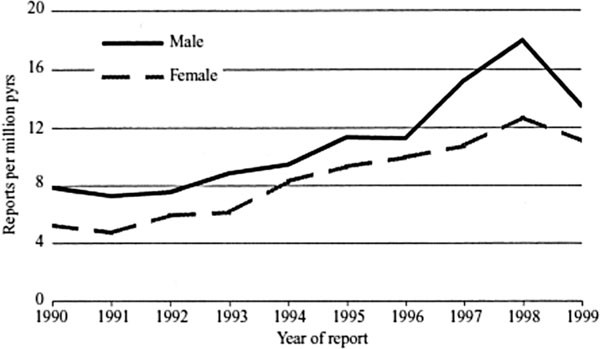 Conclusion
Meanwhile in vitro methods are available to assess reliably the susceptibility of fungal isolates. There are, however, considerable differences in the evaluation of the results, as CLSI and EUCAST breakpoints vary. If isolates with known resistance mechanisms that have been shown to be clinically relevant at least in individual cases shall not be categorized as susceptible, some CLSI CBP need to be reconsidered. Despite the fact that a number of new antifungals are nowadays available, clinical results of antifungal therapy leave much to be desired. Hence, optimization of empiric therapy according to the local epidemiological situation and reevaluation of the therapeutic regimen when susceptibility results become available should carefully be followed. With our expanded knowledge on pharmacokinetics of antifungal compounds, MIC data could be valuable at least when treating invasive fugal infections. More information about MICs of clinical isolates and outcome of the particular patients would be helpful to establish further and validate current CBP.
Authors' Affiliations
(1)
Institute for Medical Microbiology and Epidemiology of Infectious Diseases, University Hospital of Leipzig, Leipzig, Germany
Copyright
© I. Holzapfel Publishers 2011